Even if you're not planning on giving it out, setting up a baby registry is so important. I've even set one up for my second pregnancy. That way, if people ask, I have one, but also, it's a great way to keep track of what you need and if you have it. Today, I wanted to share my honest Amazon baby registry review since I finished setting it up the other day, and I recently got my welcome box! I'm going to show you pictures of what came in my welcome box and give you my honest opinion of Amazon's baby registry, so you can decide!
This post may contain affiliate links, which means I'll receive a commission if you purchase through my links, at no extra cost to you. Please read full disclosure for more information.
TD;LR: I absolutely recommend setting up an Amazon baby registry and getting their welcome box. I'll break down why, but you can sign up for your registry here!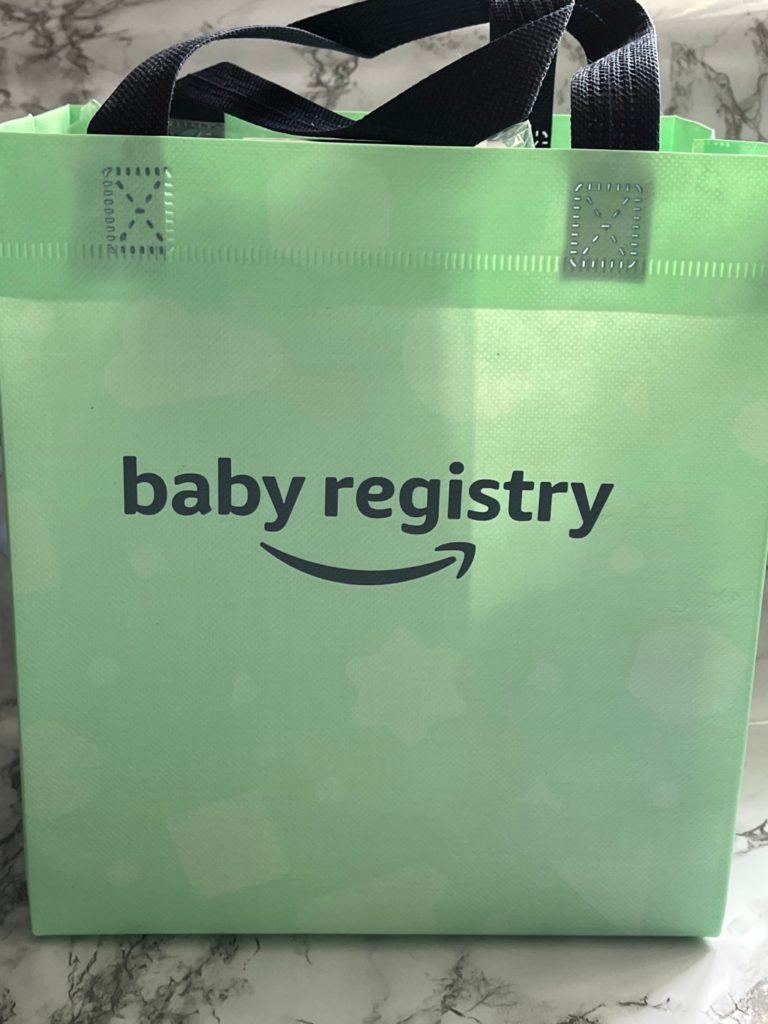 About Amazon Baby Registry
Amazon is one of the best baby registries out there because nearly everyone uses Amazon (making it easy for your loved ones to buy you gifts), and their registry comes with tons of perks. The first big one for me is that it's a universal registry, meaning you can add items from other sites through their browser extension. I consider this huge because it means you're not limited to what's on Amazon.
The other big perk is the completion discount, which is pretty generous. Before your baby is born, as long as your registry has been active for at least 14 days, you can get a 15% discount on all eligible items in your baby registry. This discount kicks in 60 days before your due date and expires 90 days after baby's arrival date. This discount is good for orders up to a combined value of $2,000, for a maximum discount of $300.00. I just placed my order, and I found this to be incredibly helpful. I saved $90, turning a $600 order into a roughly $500 order, which is huge, in my opinion.
Beyond that, there's their 365-day return policy and fast, free shipping.
Amazon's Baby Welcome Box
Another great perk to setting up a baby registry is welcome boxes! Amazon has you jump through some hoops in order to get your welcome box, but it's worth it. First of all, you have to be a Prime member, which is honestly a great idea already if you're shopping online at all. If you're not a Prime member, I highly recommend signing up, which you can do here and get a free 30-day trial!
Beyond being a Prime member, to get your welcome box, you have to complete 60% of your registry's checklist (meaning you need to add a good amount of items to your registry), and someone needs to make a purchase off your registry, whether that's you or someone else doesn't matter. This is pretty easy because you can just add something you need to buy anyway to your registry, like any pregnancy products you want.
Then, all you need to do is order your welcome box!
What I got in my Amazon baby welcome box:
Sample diaper from Mama Bear
Carter's bodysuit (size 3-6 months)
Newborn muslin swaddle blanket from Amazing Baby
Enfamil Prenatal supplement (30 pills) + a coupon
2 Breastmilk storage bags and 2 disposable nursing pads from Lansinoh
Prenatal sample packet from Smarty Pants
Dreft laundry detergent sample (stage one: newborn)
Gripe water sample from Mommy's Bliss
Coupon to Hello Bello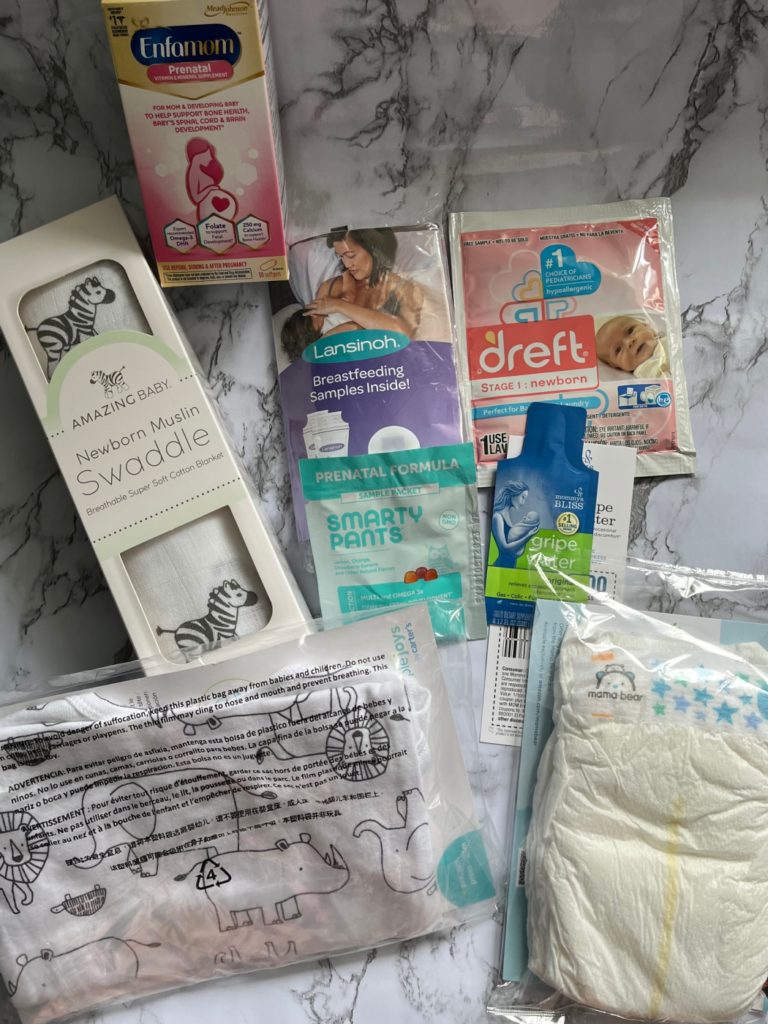 For me, the big wins in this welcome box are the muslin swaddle, body suit, and prenatal vitamins. I absolutely love the swaddle blanket, and Carter's bodysuits are what I buy anyway. If you're breastfeeding, you might also find the bags and pads helpful. There's also nothing wrong with trying out different diapers to see what works best for you, so a diaper sample can be great. Everything else isn't super helpful, to be honest. There's absolutely no need for separate laundry detergent for your baby. Just get something hypoallergenic and wash all your clothes together. Personally, I'm not a fan of gripe water either.
But overall, I thought this was a great welcome box, and I was excited for it! It's smaller than Babylist's welcome box, but there are enough helpful things in Amazon's baby welcome box for me to consider it worth it.
Now, personally, I recommend signing up for multiple registries, so you can get multiple welcome boxes. My favorites are Amazon (obviously), Babylist, and Target. There's no real downside to having multiple registries beyond making sure you only give out one, so you're not getting gift multiples. This also means you get multiple registry completion discounts, which is great because if only one store has your item, you can still get a discount on it!
Have any questions about Amazon's baby registry? Drop them below!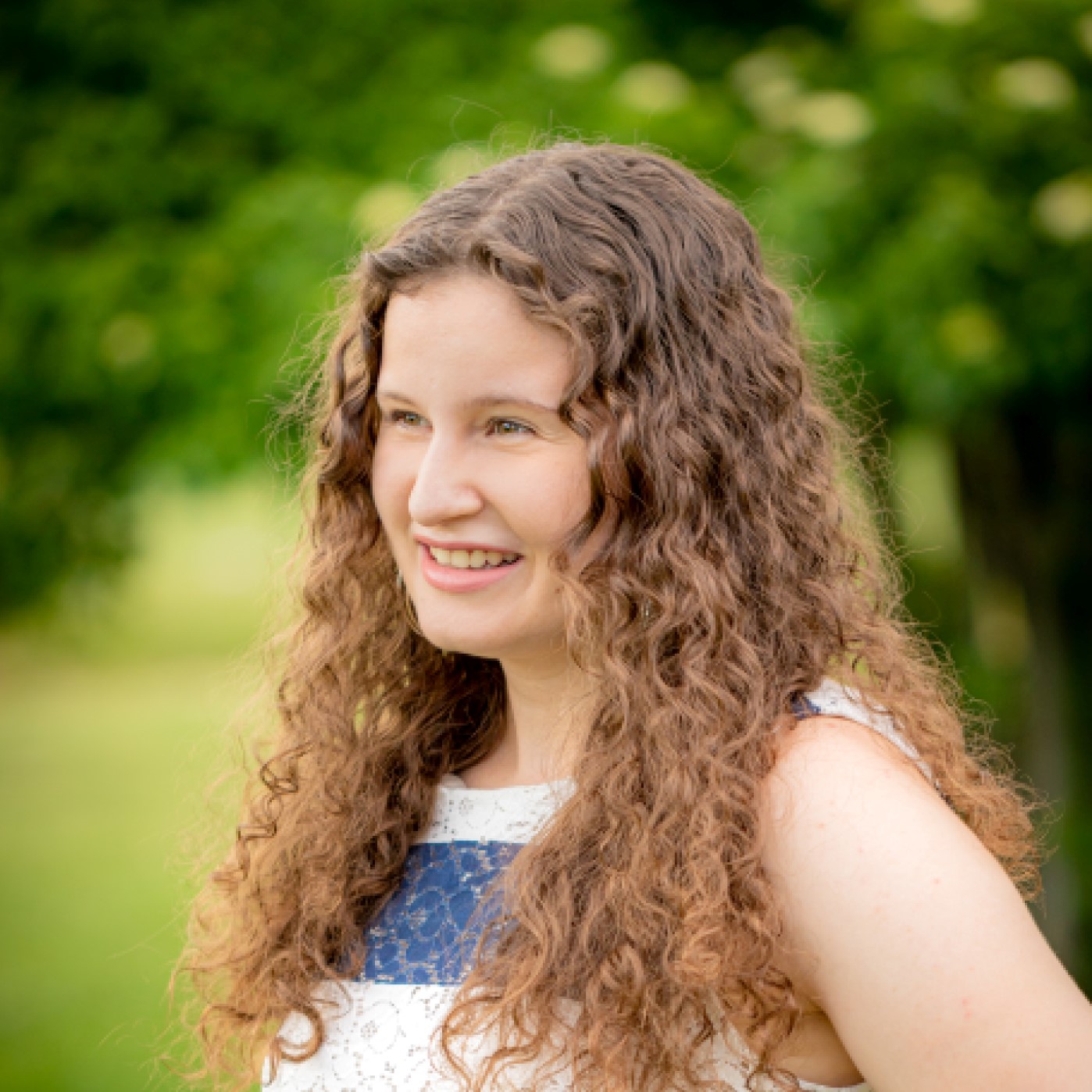 Erin Lafond is a writer, website creator, and mom. She survived new motherhood by Googling things a lot, calling her mother, and embracing trial and error. Now, she shares her knowledge with all new moms. She lives in New Hampshire with her husband and son (soon to be two sons!).